Seminar and Roundtrip 2012
The Roundtrip dates will be:
Arrival on the 29th of July in Tirana. Staying overnight in Tirana we will leave for Pogradec at the shores of Lake Ohrid next day early, visiting Elbasan, Librazhd and Pogradec. The day after we will relax on the shores of lake Ohrid. On the 1st of August we will leave for Korça and stay there two nights with possible excursions and folklore night. After Korça, we will take the road to Përmet. This is a long journey through a beautiful country side, passing Ersekë and Leskovik. In Përmet we also will stay two nights, visiting one of the traditional villages outside Përmet and probably will have a folklore night with a local group or artists. Përmet is the "Mecca" of Albanian folk music. Laver Bariu from Përmet is one of the most famous clarinet players in Albania. After Përmet we will leave to Tirana again, passing Tepelenë, the town of Ali Pasha. After a last night dinner in Tirana, we leave for the airport on the 6th of August to see you off back home, unless you will stay for the seminar or some extra days, which can be arranged any time at wish.
Seminar dates are set:
Arrival on the 6th of August in Tirana. On the 7th of August classes will start, morning and evening classes possible. On the 9th of August we will travel up north to Shkodra, visiting the Kruja ethnographical museum on the way. From Shkodra we will travel to the Albanian Alps to Lepushi in the Kelmend region to attend the Lepushi festival with the "Miss Bjeshka" election at the 11th of August, staying in guesthouses in the mountains. Return to Shkodra after one or two days (still to be decided) and return to Tirana for classes and excursions. Leaving Tirana on the 17th of August to the airport back home.
Prices will be pretty much the same as last year, although we reckon with some increase. It will be about 700 Euro Roundtrip and 1000 Euro for the seminar.
Take a look at the Roundtrip/Seminar 2011 review on the website to get an impression.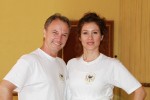 Teachers will be Genci Kastrati and Helga Saraçi, dancers at the National Ensemble in Tirana.
Interested?
If you are interested in the roundtrip and seminar or just one of them, or have any questions about possibilities to visit just the festival feel free to register. We will keep you informed about the progress, programs and possibilities.
Brochure

Brochure Seminar 2012