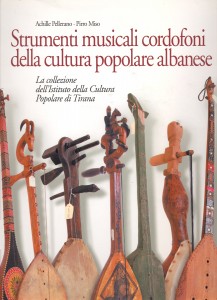 Strumenti musicali cordofoni della cultura popolare albanese
Veglat muzikore kordofone të kulturës popullore shqiptare
Authors: Pellerano, Achille & Miso, Pirro
| | |
| --- | --- |
| Publisher | Claudio Grenzi Editori |
| ISBN/EAN | 9788884312648 |
| Edition | 2008, Foggia |
| Format | 24 x 31, pb |
| Pages | 176 |
| Illustrations | colour and b&w photographs |
| Availability | available |
The collection of chordophones of the Institut të Kulturës Popullore in Tirana is shown in 69 presentations of the different instruments. All presentations have a short text to the instrument and large colour photographs with a museum picture quality. Some presentations also show details of the instruments, or backsides when of interest.
A 40 pages long text focuses on the history, fabrication, materials, restauration etc, all bilingual: Italian and Albanian.
A beautiful book, carefully designed, scientific, and with the outstanding knowledge on the matter by prof.Pirro Miso.