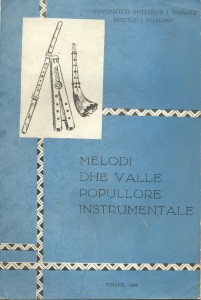 Melodi dhe valle popullore instrumentale
Author: Kruta, Beniamin (red)
| | |
| --- | --- |
| Publisher | Universiteti Shtetror i Tiranës, Instituti i Folklorit |
| ISBN/EAN | |
| Edition | 1969, Tiranë |
| Format | 16 x 24 cm |
| Pages | 119 |
| Illustrations | |
| Availability | no longer available, 2000 copies printed |
| Price indication | ALL 300 (approx. EUR 2.17 / USD 2.72) |
60 musical scores of folk dances from different regions are presented, divided by instrumentation: Fyell (flute), Cul Dyjare (double flute), Zumare (double reed), Gajde (bagpipe), Çifteli (2-string chordophone), Cingon & Daulle (zurna & tapan) and orchestra.
All scores come with places of origin, musicians and dates.
The title page shows : Melodi "e" valle instead of "dhe" as on the cover. "e" in the meaning of "of" is probably the original one, "dhe", meaning "and" is rather incorrect.