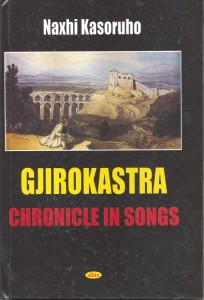 Gjirokastra
Chronicle in songs
Author: Kasoruho, Naxhi
| | |
| --- | --- |
| Publisher | Albin |
| ISBN/EAN | 9789994349562 |
| Edition | 2009 |
| Format | 14 x 21 cm, hb |
| Pages | 264 |
| Illustrations | 25 colour photographs and many b&w in the text |
| Availability | available |
| Price indication | EUR 30.00 (approx. ALL 4,154 / USD 37.74) |
This book in English is based on a series of books and articles published by Naxhi Kasoruho. Although the main part of the book is about the songs, artists and folklore groups from the Gjirokastra region, it also contains information about costumes,architecture, history and customs.
Apart from the main chapter on Gjirokastra, other chapters are about Lunxhëria, Labëria, Dropulli and Zagoria. The whole of the book provides us with useful information on the folklore of that region in particular and the folklore of Albania in general.
The book was edited by Prof. Dr. Vasil Tole, ethnomusicologist, Prof. Dr. Ramazan H. Bogdani, ethnochoreolog and Kosta Loli, ethnomusicolog.
The subtitle of the book "Chronicle in Songs" refers to the book "A Chronicle is Stone" by Ismail Kadare,which is a novel about Gjirokastër.