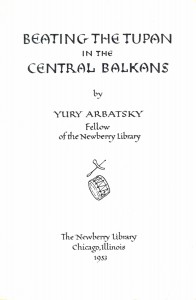 Beating the tupan in the central Balkans
Author: Arbatsky, Yury
| | |
| --- | --- |
| Publisher | The Newberry Library |
| ISBN/EAN | |
| Edition | 1953, Chicago, Illinois |
| Format | 16 x 24 cm |
| Pages | 64 |
| Illustrations | 1 map, two black and white drawings |
| Availability | no longer available |
One of the most interesting studies on tupan playing, written by Yury Arbatsky during his years in the Balkans between 1933 and 1942, where he got lessons in tupan beating by Mehmed, an Albanian tupan player from a village near Prizren.
The original recordings he made were confiscated and his fist dissertation was forbidden by the Gestapo in 1944.
After having saved the manuscripts and notes and moved to the USA the book was published in 1953.

Apart from describing the rythms and techniques used,he also mentions the variations which are not done, at least not by the tupan players from that region. A very interesting part of the book is about the combination of the tupan with the zurla. After reading this book, there will be a much better understanding of the music by the tupan as well as by the combination of tupan and zurla. Highly recommended reading.