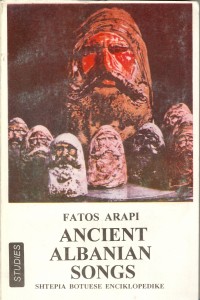 Ancient Albanian Songs
Studies
Author: Arapi, Fatos
| | |
| --- | --- |
| Publisher | Shtepia Botuese Enciklopedike |
| ISBN/EAN | |
| Edition | 1996, Tirana |
| Format | 13,5 x 20,5 cm, pb |
| Pages | 327 |
| Illustrations | |
| Availability | no longer available |
| Price indication | ALL 500 (approx. EUR 3.61 / USD 4.54) |
Ancient Albanian Songs is in fact a study about three epic songs or ballads: The Song of the Dead Brother, The Cycle of the Heroes and the Song of the Battle of Kosovo of 1389.
The Song of the Dead Brother is found all over the Balkans in different forms and versions. The study describes the differences and similarities in general and those of the Albanian versions in particular. The song is also known in the Arbëresh communities in Italy. The song is also known as "Halil Garria", "Song of Dhoqina" and "Konstandin and Garentina". In another version of this last one Garentina is called Doruntina. This inspired Ismail Kadare for his novel "Who brought back Doruntina?"

The Cycle of the Heroes is also wide spread and relates to the ballads of the heroes who fought against the Turks in the early period of occupation.

The Song of the Battle of Kosova of 1389 is found in many versions, depending of the country or region of origin from Albania to Russia. This study provides us with some information of the different versions, the changed details, the changed names etcetera.
The book is the English compilation of several essays on the ballads, published earlier in Albanian language.

For the lyrics of the different versions see "Chansonnier Epique Albanais", also available in English and "The Battle of Kosovo 1389" by Anna Di Lellio (2009, translation in English by Robert Elsie). In the volumes of the series "Mbledhës të folklorit" (Collection of Folklore) regional versions can be found.