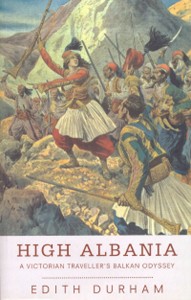 High Albania
a Victorian traveller's Balkan odyssey
Author: Durham, Edith
| | |
| --- | --- |
| Publisher | Phoenix Press |
| ISBN/EAN | 9781842122075 |
| Edition | 2000, London, pb |
| Format | 13,5 x 21,5 |
| Pages | 352 |
| Illustrations | 11 b&w photographs, 17 drawings in the text, 1 map |
| Availability | available, new edition |
First published in 1909, this account by Edith Durham (the "Queen of the Mountain people" as she was called by the mountain people)of her travels through northern Albanian is still a passionate and flamboyant one.
Although a general account,it contains a lot of ethnological information about the different clans in the northern mountain regions. It is also an account of the difficulties of that period in history when the Great Powers discussed political and national division of the Balkan regions.
For everybody who takes interest or like to travel in Albania, this book is a must. In almost every town in Albania there is E. Durham school, street, plaquette or whatever else in honour of this Victorian lady, who later struggled for the independence and freedom of the Albanians, especially for the mountain people.