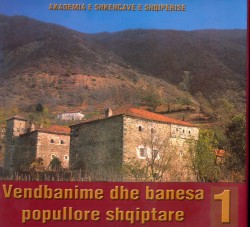 Vendbanime dhe banesa popullore Shqiptare 1
Vendbanime dhe banesa fshatare
Authors: Muka, Ali Prof. Dr., Riza, Emin Prof. Dr., Thomo, Pirro Prof. Dr. (Red)
| | |
| --- | --- |
| Publisher | Toena, Instituti i Kultures Popullore |
| ISBN/EAN | 9992719265 |
| Edition | 2004, Tirana |
| Format | 25 x 23 cm, hb |
| Pages | 480 |
| Illustrations | 525 bl & wh photographs and drawings, 2 colour maps |
| Availability | available |
| Price indication | EUR 16.00 (approx. ALL 2,215 / USD 20.13) |
This book on folk architecture is presented as part of a series titled Trashëgimi Kulturor i Popullit Shqiptar, The Cultural Heritage of the Albanian people, although there seems to be no other volumes in the series.
Volume 1 is related to the main title of traditional architecture as this volume describes the village dwellings and houses of the northern regions, divided in the north-eastern, north-western regions and the central northern massive.
As a scientific study the book is very accessible, due to the vast amount of drawings and photographs. In most cases the description is accompanied by photograph(s) and drawing(s) in a complete set, showing photographs, plans, overview and details in drawing. Not only of the outside, but also of the inside of houses, complete with furniture, tools etc.
The pages 395 -480 contain a summary in English including a Explicative vocabulary of terms, translations of the notes to the illustrations and a bibliography.