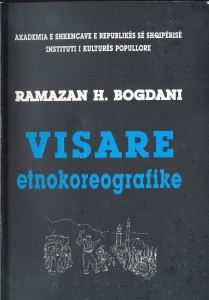 Visare Etnokoreografike
Fshatrat e Tiranës
Author: Bogdani, Prof. Dr. Ramazan H.
| | |
| --- | --- |
| Publisher | Akademia e Shkencave e RPS të Shqipërisë, Instituti i kulturës popullore |
| ISBN/EAN | |
| Edition | 2003, Tirana |
| Format | 14 x 20 cm, pb |
| Pages | 705 |
| Illustrations | 262 b&w photographs, 5 b&w drawings |
| Availability | Available |
| Price indication | ALL 800 (approx. EUR 5.78 / USD 7.26) |
The title could best be translated with "Ethnochoreographic treasures". The subtitel however tells more about the content of the book, although it is not mentioned on the cover.
The book is a full account of the extensive study by Ramazan Bogdani of the folk dances of the villages in the Tirana region. Part is from fieldwork, part is from the performances by local groups at the Gjirokastër festival or elsewhere.
Dances are described with all details, some of them in Laban-notation, including history, meaning, variations, style and choreographed performances. It includes some interviews line by line and even combinations of dances used by local performance groups. The texts are illustrated by many small b&w photographs, some drawings, Laban-notation and musical scores.
The book has a summary in English of 13 pages, followed by a full account of the 46 dances (and numerous variations to these 46) giving details about the dancers, musicians, places, dates, archival resources of photographs and movies etcetera. Maybe one of the best described surveys by Ramazan Bogdani.