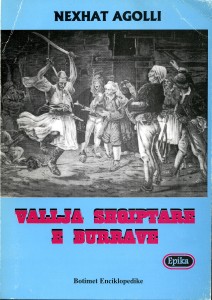 Vallja Shqiptare e Burrave
Epika
Author: Agolli, Nexhat
| | |
| --- | --- |
| Publisher | Botimet Enciclopedike |
| ISBN/EAN | |
| Edition | 1997, Tirana, 500 copies |
| Format | 14,5 x 21 cm |
| Pages | 248 |
| Illustrations | 47 b&w photographs and drawings |
| Availability | no longer available |
| Price indication | ALL 350 (approx. EUR 2.53 / USD 3.18) |
Prof. Dr. Nexhat Agolli describes the epic men's dances from Albania in 6 chapters of which the first three have a summary in English, chapter five and six have a complete translation in English.
Chapter one deals with the geographical distribution and characteristics, chapter two is about the dances with arms, chapter three is divided in the solo dances, dances for two and group dances, chapter four about the structures, chapter five about dancer's psychological aspects, chapter six on the historical aspects.
In Albanian chapter seven contains a glossary of terms.
The book is completed with a bibliography.
An indepth study of the men's epic dances, characteristic especially for the northern regions.