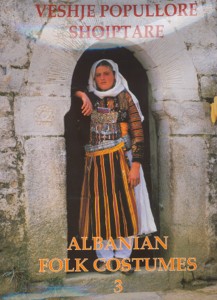 Veshje popullore Shqiptare - Albanian folk costumes V3
Vëllimi 3 - Volume 3
Author: Gjergji, Andromaqi e.a.
| | |
| --- | --- |
| Publisher | Toena, Instituti i Kultures Popullore, Departamenti i Etnologjise |
| ISBN/EAN | 9992719201 |
| Edition | 2004, Tirana |
| Format | 24 x 30 cm |
| Pages | 214 |
| Illustrations | 239 colour photographs |
| Availability | available, 3000 kopies printed |
This is the third volume in a series of five as planned, three volumes already published.
The third volume contains text and photographs of the folk costumes of the following southern regions of Albania: Elbasani, Durrësi, Tirana, Kruja, Mati, and Dibrës. These are the central Albanian regions.
This chapter also provides some photographs of the costumes of Kosovo refugees in the Tirana region, who settled there after 1999.
It is mainly a photographic documentary with splendid colour photographs of people in costumes (most of them full page) and details with an explanation per region written by the leading ethnologists in the field: Andromaqi Gjergji, Afërdita Onuzi and Spiro Shkurti, all Prof. Dr. and Gjergji Martini, supervised by Prof. Dr. Afërdita Onuzi.
Each chapter starting with a detailed map of the ethnographical regions makes
these volumes a perfect reference work and a gem on Albanian folk costumes.