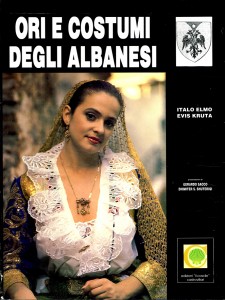 Ori e Costumi degli Albanesi
Author: Italo Elmo & Evis Kruta
| | |
| --- | --- |
| Publisher | Edizione "il Coscile", Castrovillari |
| ISBN/EAN | |
| Edition | 1996 |
| Format | 24,5 x 32 cm, cassette with three volumes |
| Pages | 994 in total, vol 1: 334, vol 2:388, vol 3: 270 pages |
| Illustrations | many full color photographs, drawings, maps |
| Availability | available |
| Price indication | EUR 140.00 (approx. ALL 19,383 / USD 176.12) |
The book is a three volume set about the jewelry and costumes of the Albanians, published in Italy and in Italian language only, with some explanations in Shqip.
The first volume deals with the history of Albania from the time of Skenderbeg in the 13th century and the settling of Albanian refugees in Italy in that period of time. It clearly shows the villages and communities of Albanians in Italy.
It mainly focuses on jewelry, headdress and symbols in the embroidery of the Arbëresh Albanian people in Italy.
The second volume is packed with full color pictures of costumes from the different Arbëresh communities in Italy, the patterns, colors and decorations.
The third volume is about the Albanian costumes in Albania, Kosovo and Greece (Arvaniti). It shows the classification of the different types of costumes and the distribution over the country of Albania. It also shows the different ethnic zones in Kosovo and the Arvaniti villages in northern Greece.
Agim Bido added a chapter on the symbols used in costumes from Albania.

Although the majority of this set of books is about the Arbëresh Albanians in Italy, the third volume is also very interesting in the way the classification is presented, the distribution and symbols, the patterns and other information about the costumes from Albania, Kosovo and Greece together. It complements the three existing volumes on Albanian costumes published in Albania (Veshje popullore) with some background information and details of the costumes from the northern part of Albania and Kosovo, which should be published as volume 4 and 5 of the "Veshje popullore" series.