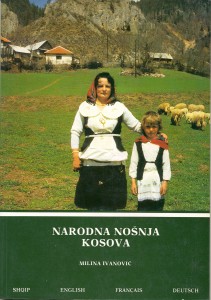 Narodna Nosnja Kosova
Rugovo
Author: Ivanovic, Milina
| | |
| --- | --- |
| Publisher | Kulturno Prosvjetni Sabor Hrvatske |
| ISBN/EAN | 8680825638 |
| Edition | 1988, Zagreb |
| Format | 16,8 x 24 cm |
| Pages | 127 |
| Illustrations | 36 photographs, of which 32 in colour, 6 tables with line drawings |
| Availability | no longer available, 2000 copies printed |
One of the volumes in the Biblioteka "Narodna Nosnja Jugoslavije", this one describes the costumes of Kosovo,in particular the Rugovo costume.
The book consists of 5 parts of each about 23 pages text in Serbo-Croatian, Albanian, English, French and German language.Each part has a general introduction and specific pages on the men's and women's dress in detail.
The 6 tables show drawings of the different parts of the costumes including the patterns.
Especially the tables with the patterns make this book very useful.