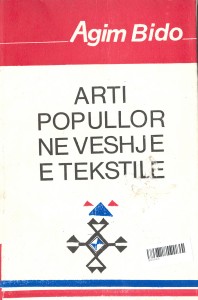 Arti popullor ne veshje e tekstile
Malësitë e Shqipërisë Veriore
Author: Bido, Agim
| | |
| --- | --- |
| Publisher | Akademia e Shkencave eRP te Shqiperise, Instituti i kulturës popullore |
| ISBN/EAN | |
| Edition | 1991, Tirana |
| Format | 13,7 x 20,7 cm |
| Pages | 255 |
| Illustrations | 103 bl & wh photographs, bl & wh drawings, 10 pages with colour photographs |
| Availability | Rare, 1000 copies printed |
| Price indication | ALL 200 (approx. EUR 1.44 / USD 1.82) |
The four chapters in this publication are dealing with the folk art on folk dresses and textiles from the mountainous regions in the north.

The first chapter is about the Xhubletë in general, describing the various types, the decorations and the used motifs on the xhubletë. The xhubletë is a special dress, only to be found in these regions and has no equivalent elsewhere in Europe.It is believed to be an ancient form of dress,possibly thousands of years old, which is preserved till the present day by the mountain people in northern Albania.

The second chapter deals with the assymetrical decorations in the dresses and textiles from the Has region.

The third chapter is about the folk ornamentation in the Gjakovë mountain range.

The last chapter is a comparison of characteristics, symbols, functions and other factors in all the northern mountain regions.

The book ends with some conclusions. A summary in English is found on pages 233-246.