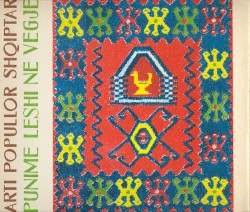 Arti popullor Shqiptar - Punime leshi ne vegje
Authors: Akademia e Shkencave të RPSSH, Instituti i historisë, sektori i etnografisë
| | |
| --- | --- |
| Publisher | 8 Nëntori |
| ISBN/EAN | |
| Edition | 1977, Tirana |
| Format | 26 x 24,5 cm |
| Pages | 28 pages text, 57 pages drawings, 5 pages index to the plates |
| Illustrations | 57 pages with several drawings in color per page |
| Availability | no longer available, 5000 copies printed |
| Price indication | ALL 12 (approx. EUR 0.09 / USD 0.11) |
Apart from the name of the painter, Ikbale Bihiku, the name of the author of the text is not mentioned. Probably it was Andromaqi Gjergji as this name is mentioned in the book on needlework, which comes from the same series.

For those interested in weaving techniques, apart from the motifs shown, the introduction in 7 pages (in Albanian, English and French) is interesting enough.
Each drawing is listed with full details of where the object comes from, what it is and the number of the object in the archives for reference.
The price of 12 Lek is printed on the back, but expect to pay about 800 Lek to be paid for a second hand copy now.