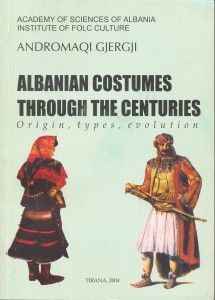 Albanian costumes through the centuries
Origin, types, evolution
Author: Gjergji, Andromaqi
| | |
| --- | --- |
| Publisher | Academy of Sciences of Albania, Institute of folk culture |
| ISBN/EAN | 9799994361440 |
| Edition | 2004, Tirana |
| Format | 16 x 22 cm |
| Pages | 320 |
| Illustrations | 247 bl & wh ill, 16 tabl colour photographs |
| Availability | Available |
| Price indication | ALL 400 (approx. EUR 2.89 / USD 3.63) |
This historical survey describes the origin, types and evolution of the Albanian folk costumes through the ages, from the 14th century till now. The 14th century offers paintings and drawings of Albanians,creating reliable sources to start from. Earlier sources are more vague and disputable.

Chapters include a historical survey, variations according to function, a classification, comparative historical examinations, the position in the Southeastern European context and ends with conclusions, a bibliography and index.
The book is in English. An edition in Shqip is also available.
Complimentary to the (until now) 3 volume set of "Veshje popullore", showing the costumes in photographs and detail, according to the region of origin, this book offers a indepth study of the history, evolution and social aspects of the folk costumes, discussing some elements in detail.