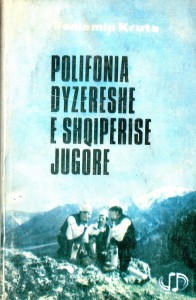 Polifonia dyzërëshe e Shqipërisë jugore
Tipologjia
Author: Beniamin Kruta
| | |
| --- | --- |
| Publisher | Akademia e shkencave e RPS të Shqipërisë, Inst i kulturës popullore |
| ISBN/EAN | |
| Edition | Tirana, 1989 |
| Format | 13 x 20,5 cm, paperback |
| Pages | 358 |
| Illustrations | |
| Availability | No longer available |
| Price indication | ALL 500 (approx. EUR 3.61 / USD 4.54) |
The book describes the two-voiced polyphonic singing from Southern Albania (Lab and Tosk). As the subtitle already mentions, the main aspect of the book is the typology of the styles from different regions. It is explained in tables with several variations per style and gives information about the regions where these variations occur.In three chapters the differnt styles are explained with some musical notes up till page 168. Chapter four contains 86 songs and melodies with musical scores and lyrics.
Chapter four is followed with a summary of 22 pages in French language and a bibliography.

This book is of special interest for those who take interest in the two-voiced polyphonic singing as it gives detailed information about the different styles throughout the Southern part of Albania and samples.

Occasionaly a copy might appear in second hand bookshops, which might cost about 500 Lek, depending on condition of the book.