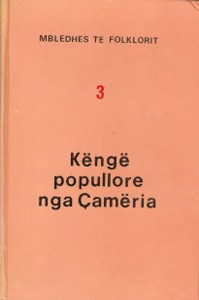 Këngë popullore nga Çamëria
Mbledhës të Folklorit vol. 3
Author: Rrapaj, Fatos Mero
| | |
| --- | --- |
| Publisher | Instituti i Kulturës Popullore |
| ISBN/EAN | |
| Edition | 1983, Tirana |
| Format | 14 x 21 cm, hb |
| Pages | 848 |
| Illustrations | 7 b&w pictures |
| Availability | no longer available, 3000 copies printed |
| Price indication | ALL 25 (approx. EUR 0.18 / USD 0.23) |
Volume 3 in the series of the folklore collection contains the lyrics of 791 songs from Çamëria, divided in two parts: "Lirika" and "Epika". Each part is again divided into separate parts, like children's songs, lullabies, humoristic songs, love songs, ritual songs and wedding songs, while the epic songs are divided according to the period of time on which the songs are based.
Each song is described as where it came from and where and when it was written down. There are 18 pages of a dictionary, explaining or translating the words from the Çam dialect to standard Shqip. A list of contributors is added with information about their origin, when they were born, what their occupation was and if they could read and write or not.

The price of 25 Albanian Lek is the original price, second hand it might cost about 500 -800 Lek.