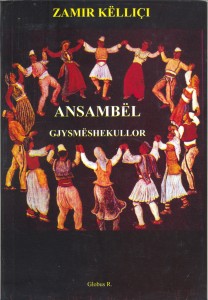 Ansambël gjysmëshekullor - Half a century of the Ensemble
Kushtuar 50 vjetori të Artë të
Author: Këlliçi, Zamir
| | |
| --- | --- |
| Publisher | Globus R. |
| ISBN/EAN | 9789994353316 |
| Edition | 2007, Tirana |
| Format | 14 x 20,7 cm |
| Pages | 200 |
| Illustrations | 36 bl &wh photo portraits, 62 bl & wh photographs, 16 colour photographs |
| Availability | Available |
| Price indication | ALL 500 (approx. EUR 3.61 / USD 4.54) |
The book is published in honor of the 50th anniversary of the AKKVP, the national ensemble for folk songs and dances, in Albanian: "Ansamblit Kombëtar të Këngëve dhe Valleve Popullore".
It describes the history of the ensemble from when it was founded as "Ansamblit Shtetëror" ("State Ensmble") in 1957 to the contemporary "Ansamblit Kombëtar"("National Ensemble").
It contains a listing of all the people involved in the ensemble from directors to individual dancers, singers, musicians, choreographers and composers over those 50 years, illustrated with portraits and pictures.
Also all performed songs, instrumental pieces and choreographies are mentioned by vocalists, composers and choreographers.
A list of reviews and bibliographical reference is also added.
For those interested in the ensemble and it's artists a nice book of reference.