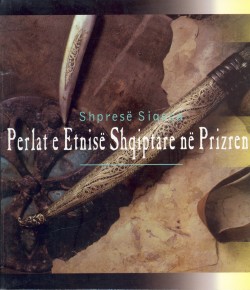 Perlat e Etnisë Shqiptare në Prizren
Author: Siqeca, Shpresë
| | |
| --- | --- |
| Publisher | Shtëpia Botuese Gjeçovi, Peja |
| ISBN/EAN | |
| Edition | 2002, Peja |
| Format | 22 x 25 cm |
| Pages | 161 |
| Illustrations | 47 color photographs, large format, several bl&wh photographs in the text |
| Availability | rare, 1000 copies printed |
| Price indication | EUR 25.00 (approx. ALL 3,461 / USD 31.45) |
The book is a compilation of several chapters on ethnographic subjects. Chapter one is about the traditional architecture in Prizren, the second, third and fourth about costumes and textiles. The fifth chapter on silversmiths, the sixth on the festivities and rites of St. George (Shëngjergjit), the last one on the Turbes and holy tombs of the Islam culture in Prizren.
Some summaries are in English, others in French.
The large pictures form the last part of the book, showing pictures of buildings, textiles, silverwork, woodwork and holy turbes and other buildings.