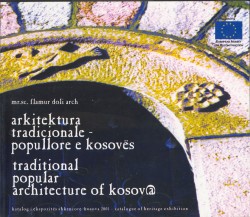 Arkitektura tradicionale - popullore e Kosovës - Traditional popular architecture of Kosova
katalog i ekspozitës shkencore Kosova 2001
Author: Doli, Flamur
| | |
| --- | --- |
| Publisher | |
| ISBN/EAN | |
| Edition | 2001, paperback |
| Format | 24,5 x 21 cm |
| Pages | 139 |
| Illustrations | about half of the pages are with drawings and photographs in color and bl & wh |
| Availability | available |
| Price indication | ALL 2,500 (approx. EUR 18.05 / USD 22.70) |
In fact this book is a katalog of an exhibition on The traditional architecture in Kosovo. All drawings, technical and sketches as well as the photographs are made by the author.
After 8 pages of introduction, mainly focused on the antiquity of the authentic Albanian buildings, the book is divided in chapters, describing the buildings by example of existing buildings. First of all the kulla's of the Dukagjin plain are described, followed by some storage buildings. Then the chapters describe the traditional houses in the cities of Peja, Djakova, Prishtina and Prizren. At the end some textiles and costumes are shown as well as pictures of the destruction of architectural heritage during the war in 1999.
The combination of text, technical drawings of the constructions, sketches of the decorations, floor plans, 3D cuts and photographs makes it a very complete introduction to traditional architecture in Kosovo, but alo for similar buildings in Albania.
Texts are in Shqip and in English.