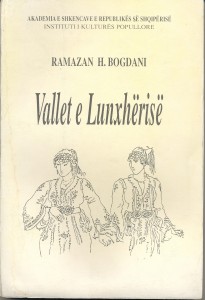 Vallet e Lunxhërisë
Author: Bogdani, Prof. Dr. Ramazan H.
| | |
| --- | --- |
| Publisher | Akademia e Shkencave e RPS të Shqipërisë, Instituti i kulturës popullore |
| ISBN/EAN | |
| Edition | 1995, Tirana |
| Format | 14 x 20,7 cm |
| Pages | 296 |
| Illustrations | 33 b&w photographs, 29 b&w drawings, 3 b&w maps |
| Availability | no longer available, 2000 copies printed |
| Price indication | ALL 500 (approx. EUR 3.61 / USD 4.54) |
The region of Lunxhëria is the small region between Gjirokastra on the west, Përmet on the east and Tepëlene on the north, but to be more precise: between Zagori on the east, Pogini (Greek border) on the south-east, Libohova on the south and Lugina Drinos (river Drinos) on the west, Rrëza on the north. It is a very small, but distinct ethnographical region. Not only for the costumes, but also for the dances and rituals.
The most interesting aspect of this book is that in origin it was a paper about the dances of Lunxhëria and parallels with the polyphonic dances in group and the asymmetry in southern Albania. This final publication is based on this paper, but extended with other details, as a result of the 1978 research in that region. The relationship between the polyphonic songs and the dances can best be evaluated from this book.
59 dances and songs have been described in detail in this book, along with a general chapter on characteristics, all with details about the recordings, photographs and archive numbers with sources.