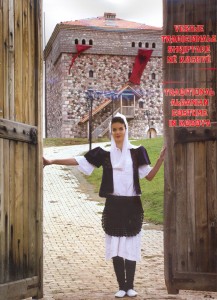 Veshje tradicionale Shqiptare në Kosovë - Vëllimi I
Traditional Albanian costume in Kosova
Author: Berisha, Engjëll I. (Redaktor)
| | |
| --- | --- |
| Publisher | Gjon Nikollë Kazazi |
| ISBN/EAN | 9789951539050 |
| Edition | 2009, Gjakovë |
| Format | 24 x 30 cm |
| Pages | 171 |
| Illustrations | 158 ful colour photographs |
| Availability | available |
| Price indication | EUR 40.00 (approx. ALL 5,538 / USD 50.32) |
The book is a project by Bora Fashion, Gjakova. The aim is to show the traditional costumes and the offspring of them in more modern (mainly bridal) dresses.
It has a very short introduction by Bora Fashion. The rest of the book is just 158 pages in full colour with photographs of models showing the dresses. Some are very interesting and more or less complete, others wear just parts of the dress and wear modern shoes, making these a strange looking mixture.
The last pages contain mainly bridal dresses from different places and years. It may add to an understanding of fashion in wedding gowns, but there is no further text to it.
It also contains some models wearing dresses from Shkodra (modern ones), one from Korça, said to be found in Kosovo, and one in a dress from Gjirokastër, which is actually from Myzeqe.
These "mistakes" make it clear that the book is not a scientific one, no involvement of ethnologists, which is a pity. However there are some nice pictures and details. It is called volume 1, but volume 2 seems not to have been published yet.