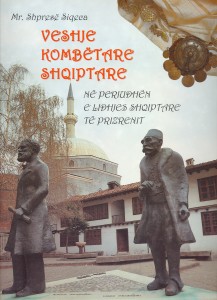 Veshje Kombëtare Shqiptare
në periudhën e Lidhjes Shqiptare të Prizrenit
Author: Siqeca, Shpresë
| | |
| --- | --- |
| Publisher | Libri Shkollor, Prishtina |
| ISBN/EAN | |
| Edition | 1998 |
| Format | 24 x 30 cm |
| Pages | 108 |
| Illustrations | 53 large format color photographs, several black & white photographs in the text |
| Availability | rare, 1000 copies printed |
| Price indication | EUR 20.00 (approx. ALL 2,769 / USD 25.16) |
The book presents the folk costumes from the period of the League of Prizren from all the regions involved at that time( 1878-1881).
It was published at the 120 year anniversary of the League of Prizren.
In the first part there are brief descriptions of the Albanian costumes, ordered by costume classification with examples from different regions. The second part consists of the beautiful color photographs of the several parts of costumes belonging to the thesaurus of the Museum complex in Prizren. Pieces from Montenegro, Macedonia, Albania and Kosovo are shown.
Based on the classification of the different types of costumes, this book offers a quick overview of all the types of costumes throughout the Albanian regions.
Apart from the two pages Conclusions in English, the text is unfortunately only in Shqip.